The Discovery of the Borg, and man's encounter with the first known Borg Cube in 2365 (in the area of the J-45 system, 6500 light years from the UFP) identified one of the greatest threats to the Federation's way of life since the foundation of the UFP. In 2367, the first direct confrontation between the Borg and Star Fleet's Forces took place in the Battle of Wolf 359, resulting in the greatest losses to Star Fleet forces in it's long history (over 11,000 lives and 39 starships).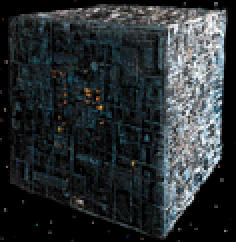 Star Fleet Command quickly recognized the need to develop new and unique technologies to counter this extreme threat to the Federation's continued existence. One of the first facilities to receive any actual sample of Borg technology as well as organic and cybernetic samples of Borg Drones killed in the various encounters , was this facility, OutPost 070. This was accompanied by a large influx of Federation scientists and military tacticians.
In addition, due to increased funding for the Borg studies, the facility went through it's third major overhaul since it's inception. This included the addition of additional cyber-neural gel packs and advanced isolinear sub processing to the facility's data processing systems.
SOME OF THE ABSTRACTS PUBLISHED AND SOON TO BE PUBLISHED IN THIS AREA FOR PROPERLY CLASSIFIED FEDERATION PERSONNEL:

| | |
| --- | --- |
| | Wide Degree of Variations in Borg Implanted Cybernetic Eyepieces in Captured Borg Technological Samples. |
| | Assimilation: The Borg Quest For Perfection |
| | Further Enhancements in Anti-Borg Biological Agent Derived from Specimens Acquired Through Contact with Species 8472. |
| | Design Variations in Known Borg SpaceCraft. |
| | A Summary of Results of the Examination of the Damaged Borg Trans-Warp Conduit Generation Device as Returned by the USS Voyager. |

Access to all data contained herein requires a Level Four, Sigma 6B security clearance and a Need To Know authorization from Star Fleet Command. Failure to follow this directive can result in severe fines and imprisonment